Spawning Variant of the Denbow's Super Slam Shrimp - Tying Instructions
Written by Rob Mukai on Mar. 27, 2019
Tags: Saltwater Fly Fishing Fly Tying Instructions Permit Fly Bonefish Fly Fly Tying
---
So it's only taken two years to get the 2nd fly tying video up. Right on schedule :) If you want to check out the fly tying video for the Acocote Drum Majorette, you can find it here. The DSSSSV (we really need to think of a new name for this :) is one of the most productive flies we use here in Xcalak. Both on the beach side flats as well as Chetumal Bay. This mantis shrimp pattern works for all the Super Slam species, bonefish, permit, tarpon and snook, thus the name. It will also catch snapper, jack, triggers, you name it. The good news is it is a relatively easy tie. If you want to skip to the video you can check it out below: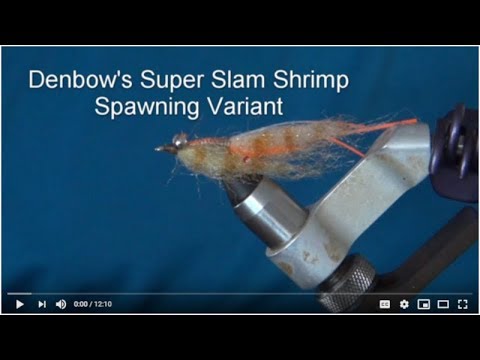 This tie is inspired by the Denbow's Super Slam Shrimp. Nick Denbow is a great guide out of Mahahual, about an hour north of us here in Xcalak. I've changed it up a bit, the original is craft fur, uses 2 wings to add a bit of bulk to the top of the fly. I use mostly Enrico Puglisi fibers and only use one wing. I also build the body with v-rib like a crazy charlie to highlight the orange under the wing. But in any event, I think the profile and the legs are definitely similar.
I tie this in 3 sizes (Size 4, 6, 8) and 2 color variations (tan and olive).
Recipe
Hook Small Gamakatsu SL11-3H Size 8

Hook Medium Gamakatsu SL11-3HSize 6

Hook Large Gamakatsu SL11-3H Size 4

Weight Small Medium Bead Chain

Weight Medium 5/32 Brass Eyes

Weight Large 7/32 Brass Eyes

Mono Eyes Red Glass Bead

Spawn Sack EP Silky Fibers - 3D Flourescent Orange

Head EP Silky Fibers - 3D Tan

Wing EP 3D Fibers - Tan

Legs Sili Legs Fire Tip - Clear/Fire Orange

Flash Pearl Crystal Flash

Body V-Rib Clear - Medium

Thread Tan 140 Denier

Barring - Marigold Sharpie or Red Sharpie
Olive Version
Change Head to EP Silky Fibers - 3D Olive

Change Wing to EP 3D Fibers - 3D Golden Olive

Change Barring to Olive or Brown Sharpie

Step by Step Tying Instructions
Cover hook shank with thread
Tie in dumbell eyes hit with super glue
Use wire cutters to flatten the ends of mono eyes and bend to 45 degree angle. There should be about 3/8 inch from inside of eye to bend.
Tie in eyes at the bend of the hook
Taper and lay EP Silky Fibers 3d Fluorescent orange so it sticks past the bend of the hook. Cut on the front so that it lays down behind the dumbell eyes
Cut EP Silky Fibers 3d Tan to 2x hook shank length. Taper both ends. Lay over the orange so about 1/3 covers the orange extending out the back and tie in. Fold the 2.3 over the top. Make sure it covers the orange on the sides.
Tie in 2 Firetip legs, taper them so that they are all different lengths.
Tie in 1 strand of pearl crystal flash on either side.
Tie in V-Rib clear Medium.
Hit the thread ball with Super Glue.
Wrap V-rib up the shank of the hook. Tie off near the eye.
Measure out about 2x 1.5 times shank length of EP Fibers 3D Tan. Taper ends. Tie in so 1/3 is point back to the hook point. Fold over, tie it down and clean up head.
Hit the head with super glue.
Trim legs so there is about 1/4 inch of Hot orange. They should all be different lengths.
Optional - Bar with Sharpie, Either Marigold or Red for the tan variant, or Olive or brown for the Olive variant.
Fishing Notes
Fish this with long slow strips. Mantis shrimp motor along using the legs under their bodies, not by snapping like smaller shrimp. Pro-Tip: at the end of your strip, try giving a few inches of line back, by pushing your rod out a bit as you reach for the next strip, this allows the fly to drop between strips and can sometimes provoke a permit to strike.